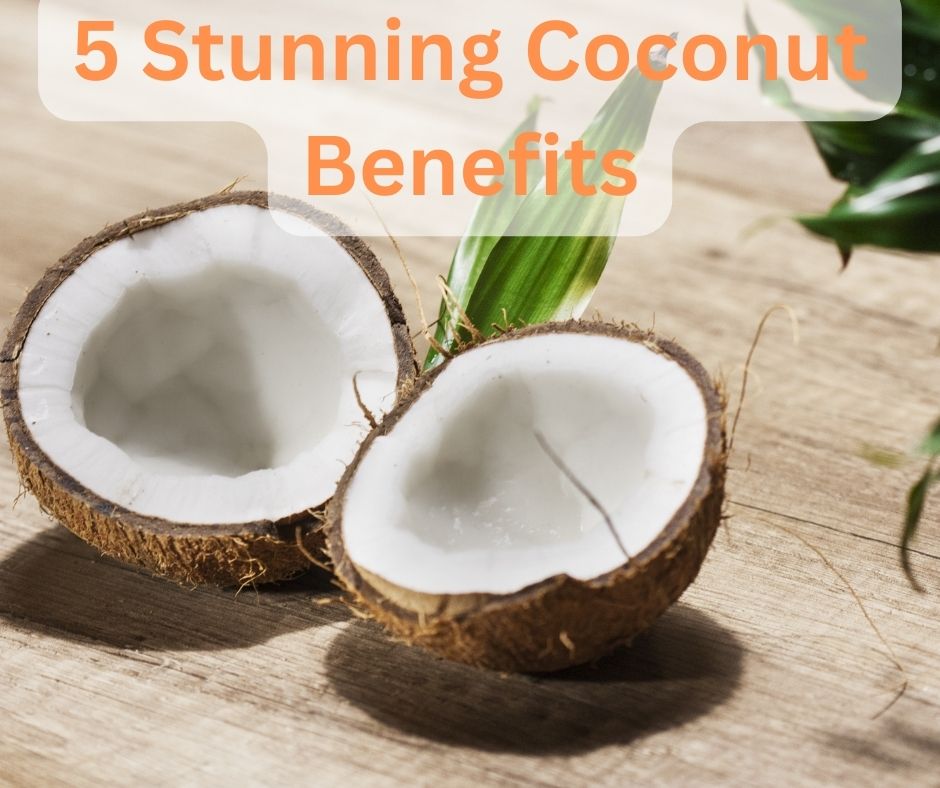 5 Stunning Coconut Benefits
For good reason, coconuts are regarded as one of the healthiest fruits in the world. They are abundant in beneficial fats, anti-oxidants, and vital micronutrients. Today, coconut is used to make a variety of foods, including milk, flour, coconut oil, and water.
The fruit can be found in some kind on almost every aisle of the grocery store.
The fruit is nutrient-rich and contains medium-chain triglycerides, which offer a number of health advantages. It provides the body with a rapid supply of energy and aids in the battle against chronic illness and infections.
Different Coconut Products
There are many different coconut-based products available, and each one has a unique use in both cooking and personal care. Here is a list of the various fruit varieties you can find at your neighborhood grocery store:
5 Stunning Coconut Benefits
Contains Good Fats
Even though coconut oil includes saturated fats, many people are still unsure of its suitability for their health despite the fact that it has healing properties. While hydrogenated coconut oil is gathered and then cold-pressed at a temperature of 100 degrees Fahrenheit, pure coconut oil is taken from ripe coconuts with hard flesh. Virgin coconut oil that has not been refined or treated is preferable. Extra virgin coconut oil and hydrogenated coconut oil are completely distinct from one another.
Coconuts Help You Lose Weight
You might consider consuming coconuts if you are having problems losing weight. It is less toxic even with saturated fat than saturated fat drenched in plenty of calories and cholesterol. A medium-chain fatty acid found in coconut helps with weight loss and speeds up metabolism at the same time. Instead of staying on your tummy, the fat is burned off as energy. And if that weren't enough, it keeps your digestive system in equilibrium and detoxifies your body.
Even when heated to cook meals, unlike other vegetable oils, coconuts don't produce any dangerous byproducts that you should be concerned about. The advantage of using coconuts in cooking and baking is that you can use them to create some of the most delectable vegan sweets. When cooking, use coconut oil and coconut milk powder.
Ensures Strong Bones and Teeth
Consuming coconuts regularly helps to promote strong teeth and bones, which is a benefit. By doing this, you will increase your body's capacity to absorb calcium and manganese, two nutrients necessary for the growth of bones. You will also be able to prevent osteoporosis, a disorder that causes bones to become brittle and thin while also losing density. For those who cannot tolerate lactose, coconuts are a great substitute.
Enhanced Skin Health
You don't need to seek further than coconut oil to maintain healthy, youthful skin. It has anti-oxidants that slow down aging and shield your skin from the sun's damaging radiation. Applying a few drops of coconut oil to your skin is all that is necessary. Use it before washing so that after your pores have opened, it will be simpler for the oil to be absorbed via your skin.
Coconuts Fight Microorganisms
Lauric acid, which is present in coconuts, breaks down to create monolaurin. To prevent infections, these compounds assist in the fight against bacteria, viruses, and fungi. They've even been proven to aid in the destruction of the yeast Candida albicans and the bacterium Staphylococcus aureus, both of which are common causes of yeast infections in people.