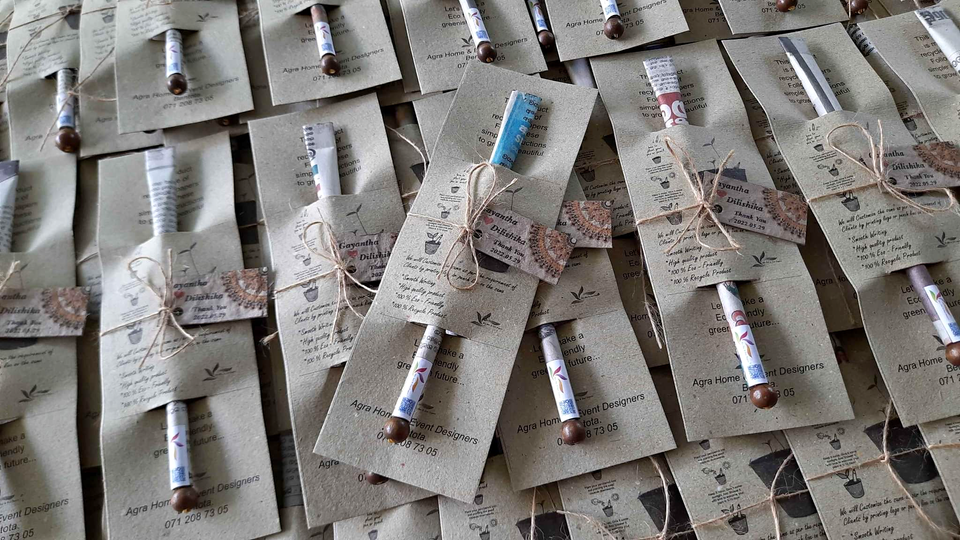 Eco-Friendly Paper Pen
Paper pens are a rising trend
As trending pens, the eco-friendly paper pens are gradually gaining the market share. Everyday people use different types of pens and pencils for writing various things. Even if typing everything down using your phone or PC, instead of writing using a pen or pencil is now common, writing using a pen is unavoidable. 
Regarding use of pens, for example, students still use pens to take down notes and for some artists, the pen is the main source to create their masterpieces. Concerning writing with pens, over 2 billion plastic pens are sold globally a year. And this generates tons and tons of plastic waste. And it's a fact that it takes hundreds and hundreds of years for plastic to decay, and this leads to end up this generated plastic waste in landfills, oceans, and even in food as pollutants. So, it is clear why we should choose an alternative path that is more natural and for human health. So, yes, for many reasons eco-friendly paper pens may be the answer we have been looking for.  
Special features of paper pens
These eco-friendly paper pens are gaining the market for their added beneficial features. For one, eco-friendly paper pens are 95-85% plastic-free. The "%" of plastic varies but yes, it's a lot less plastic compared to the plastic pens we are used to.  The outer body of these pens is made of handmade recycled paper. The refill is composed of recyclable handmade paper that is embedded with seeds that can be planted in moist soil to give you a beautiful plant. So yes, it comes with a bigger cause than the conventional plastic pens and the market demand is increasing. 
Manufacturing of Paper pens  
These eco-friendly paper pens are made in a well-planned manner, so serve as a unique gift as well. These pens consist of a refill that is rolled up in recycled seed paper. Waste and unused paper are shredded into tiny pieces and then made moist with water. The process is done with utmost care to offer you good, premium quality paper. This plantable paper is infused with organic seeds, handpicked to suit your region's climatic conditions.
Eco-friendliness of product
With the majority of the plastic used to manufacture a pen reduced, results in a step in reducing the increasing plastic contribution. Plantable seeds at the top of the refill are an added benefit. So, you can grow your greenness and be a savior of this beautiful nature, which gives us so many things for survival like the air we breathe and water we drink, the food we eat, and more. Not only that, you can make your paper pens at home with old newspapers and re-fillers. So, at home, you can contribute to reducing the use of plastics. 
Benefits to society
With the increasing global warming and changing climate towards negativity, many countries have taken actions to control environmental pollution caused by human activities. And some countries give rewards to brands and companies who are environmentally friendly. So, using eco-friendly plastic pens, will not only benefit nature. It makes a better place for the people to live in too, with minimum plastic and green sprouting seeds. 
If you are someone from the cooperative or industrial world, using your unique paper pens would be one way of marketing your brand or business. So, you can promote your brand or business as an environmentally conscious brand or business. Also, these paper pens offer high quality and sustainability again creating a valued customer relationship and impactful brand message as well.
How to use it effectively
When you get a new eco-friendly paper pen, use it to write your heart out. But, after the pen stops working and the refill runs out, plant the seeds inside in moist soil rich with nutrients and give it all the love and care and watch it bloom.
Where to buy your eco-friendly paper pen
There are so many variations of this product. From different brands to different colors of eco-friendly pens to suite your taste of preference. You can order online and purchase these paper pens. There are so many online shopping sites like Amazon, eBay, etc. Also, now with the growing trend of using eco-friendly paper pens, you might be able to buy them directly from your nearest stationery shop as well. So, if you see one don't think twice about buying one. For they come with a lot of benefits not only for you but for the future, if you care enough for the health of nature we live.