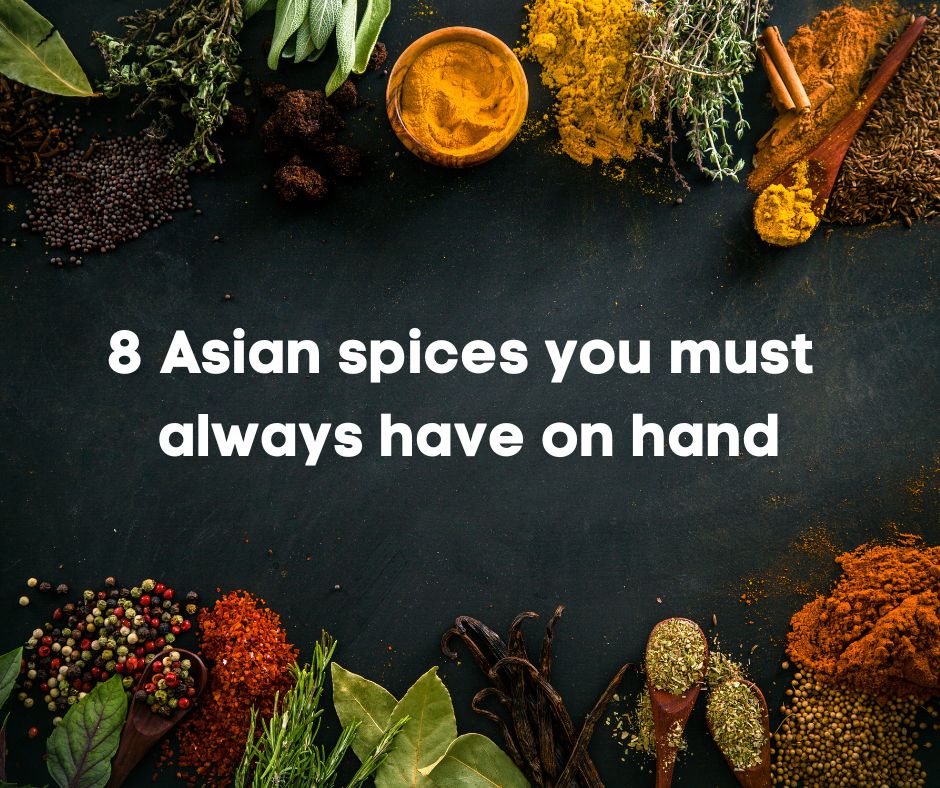 8 Asian spices you must always have on hand
Do you have these asian spices on your spice rack?
The strong flavors and potent fragrances of Asian cuisine are what make it so brilliant.
The flavors and depth that spices add to your food are the foundation of Asian cuisine. Here is our selection of the top 8 Asian seasonings that will help revitalize the cuisine at your business.
Chilli
Cooking with chilli has countless culinary options and is a staple in Asian cuisine. Markets sell both green and red chilies, which can be found whole or ground. To include them in your cuisine, you can think about adding chilli flakes to veggies, dressing salads with citrus and chilli-infused oils, or even blending them with stir-fried Asian greens.
Popular foods flavored with chilli include Thai Sweet Chilli Chicken, Singapore's Chilli Crab, and Japanese Prawns in Ebi Chilli Sauce. Dried chili peppers are great for Hunan and Sichuan cuisine, but powdered and flaked varieties work best for Korean food.
Cinnamon
Cinnamon is a common spice that is used in both savory and sweet Asian recipes because of its unique aroma and flavor. There are numerous cinnamon kinds available:
Although significantly more expensive than other types, Ceylon cinnamon has a more delicate flavor.

Chinese cinnamon has a mildly spiciness and heat to it.

The intensely sweet and spicy flavor of Vietnamese cinnamon is well-known.

The most often used cinnamon comes from Indonesia because of its flavorful balance.
There are many applications for cinnamon, some of which include flavoring Middle Eastern lamb or rice meals with aubergines.
Ginger
Ginger is yet another essential food you should always have on hand in your kitchen. It can be found in a wide variety of meals, from assam fish curries to Teriyaki salmon. You can get it either as a root or a powder. Even the sushi that goes with it is pickled by the Japanese.
When feasible, try adding ginger to your foods because it has certain therapeutic benefits. Chefs have come up with some extremely unique meals that include ginger, such as Ginger Pineapple Fried Rice, Pork Chop with Ginger Pear Sauce, and even cookies! Ginger is particularly tasty and aromatic for sweet treats.
Star anise
Star anise, which is well-known as one of the ingredients in Chinese Five Spice, goes well with dishes using chicken, duck, beef, and pig. Include dishes like fried rice, mango biryani, vegetable korma, honey-glazed pork belly, and Chinese gingered chicken on your menu to showcase it. Use star anise sparingly to subtly flavor your dishes (so it doesn't overshadow the other flavors) as its somewhat smokey, liquorice-like flavor may take some getting used to.
Cumin
Cumin is a preferred ingredient when making meat marinades, soups, and slow-cooked meat meals because of its distinct flavor and scent. If you enjoy experimenting in the kitchen, try using black cumin, which has a more nuanced flavor. Its seed is smaller and distinguishable from other varieties of cumin due to its dark color.
Middle Eastern and North Indian cuisine frequently employ black cumin. It has also historically been utilized for its healing properties, which include improving respiration and digestion while boosting the immune system. Therefore, how exactly can you add cumin to your dishes? Try adding cumin to dahl meals, tamarind chutney, or even eggplant!
Galangal root (Thai ginger)
The galangal root is lighter in color and slightly larger than ginger. Additionally, the flavor is more spicy. Along with the classic favorite, lemongrass, it is an essential ingredient in Thai cuisine. Use them to make the well-known Tom Kha Gai, also known as Thai Coconut Galangal Chicken Soup, or a revitalizing lemongrass-galangal tea.
Saffron
One of the most valuable spices in the world, saffron is well known for its distinctive color and aroma. Saffron with a brighter, more vivid color is preferred for purchase since it has a greater flavor. Saffron may add flavor and color to any dish that includes rice, pork, fish, or Indian biryani.
Turmeric
Turmeric is a vital component of curry powders and is used in popular cuisines including Indian Dahl, satay sauces, and Malaysian Rendang. With recipes like Chicken Khao Soi, Tandoori Chicken, Massaman Curry, or Honey-Turmeric Pork, you might want to include turmeric to your menu. Your dishes will look better thanks to its unusual color. Several established health advantages of turmeric exist. Among many other things, it functions as an antioxidant and has anti-inflammatory qualities.