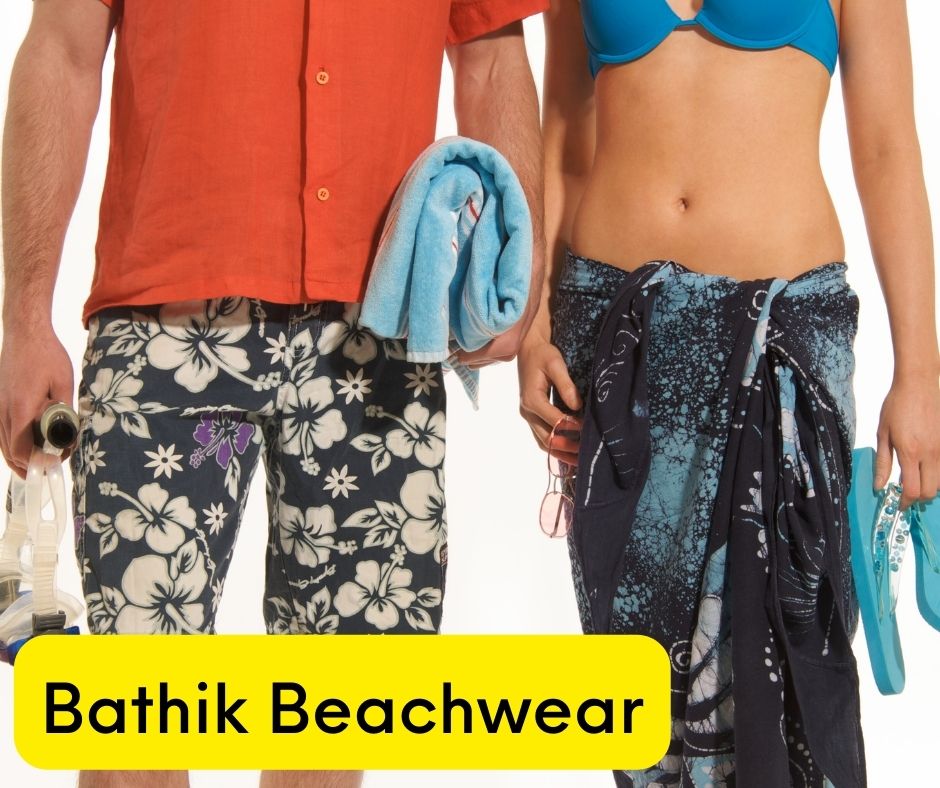 Bathik Beachwear
Bathik; unique apparel for the beach
Bathik is a craft and an art form that is becoming increasingly well-known and well-liked among modern artists all over the world as a delightfully imaginative medium. In various countries of the world, including China, Japan, India, South America, and Europe, the practice of embellishing cloth with wax and dye dates back many millennia. Come to think of the Sri Lankan bathik industry, the most sought after by local ladies for a long time was bathik sarees. But with the growth of tourism and change of culture, the bathik industry in Sri Lanka has grown beyond the boundaries, and one of the many famous bathik apparels loved by many would be the bathik beachware. 
History of Bathik
Early batik artifacts from more than 2,000 years ago have been discovered in the Far East, Middle East, Central Asia, and India. These regions may have grown independently, unaffected by commerce or cultural interactions. It seems more plausible, though, that the craft traveled with caravans along the trade route from Asia through the Malay Archipelago and then west to the Middle East.
Origin of Sri Lankan Bathik
Originated with the villages and tribesmen of what is now Indonesia many centuries ago, the Dutch brought this industry to Sri Lanka. However, until the late 1970s, when Sri Lanka's expanding tourism sector gave many local handicrafts, including batik, an unexpected surge, the batik business was only a cottage industry. Today Batik textile manufacturing in Sri Lanka is deeply rooted in the local culture, and many local artists have embraced it as one of our own, developing unique wax resist and dying techniques to create batik designs that are unique to Sri Lankan batik artists. So, when coming down to bathik beachwear, it is no wonder why these apparels would be irresistible to both tourists and locals in the same way.
Thriving support of Ceylon Bathik 
The government of Sri Lanka has identified the potential of the bathik industry to thrive tourism in Sri Lanka and one of the major reasons would be that many in the western part of the world would enjoy nothing more than a tropical beach and so, the emergence of one-of-a-kind, eye-catching bathik beachwear is ideal for both tourists and locals. Also, they are ever so comfortable to wear since they are made out of silk or cotton cloth. You can buy Batik sarongs, batik beach dresses, bikinis, and other swimsuits and swimwear in many colors for men or women.
So, the government's support of the National Crafts Council, Sri Lanka Handicrafts Board, Sri Lanka Institute of Textiles & Apparel (SLITA), and Sri Lanka Export Development Board encouraged a generation of batik artists to create and experiment with new forms and techniques in batik, giving the art a local flavor. 
Manufacturing of Bathik
Wax-resist dyeing is a method used to cover the entire piece of fabric with batik. The Indonesian Island of Java is where this method was first developed. Batik is created either by printing the resist with a copper stamp known as a cap or by drawing dots and lines on the resist using a spouted tool called a canting. The cloth can be dyed selectively by the artist by soaking it in one color, removing the wax with boiling water, and repeating if various colors are needed because the applied wax resists dyes.
Now, not only is batik used as a material to clothe the human body, but its uses also include furnishing fabrics, heavy canvas wall hangings, tablecloths, and household accessories. Batik techniques are used by famous artists to create batik paintings that grace many homes and offices.
Environmental concerns
Concerning the environmental effects, the bathik beachwear themselves has no direct negative effect on nature. But yes, many parties are concerned about the environmental problems due to the waste from the batik production process. 
Prevention of bad effects on nature
Therefore, the batik industry needs to adopt green industry concepts to alter its perspective on the idea of ecologically friendly industries. For the batik, use the Green Industry Standard (GIS). Using technology and low-carbon energy sources, GIS takes into account the effectiveness of input materials, such as raw and auxiliary materials, as well as the selection of substitutes that are more environmentally friendly, energy-efficient, and minimize water consumption. It also pays attention to the principles of water conservation, good waste treatment, and the limitation of air emissions. The batik business is anticipated to grow economically and develop into an environmentally friendly industry with the adoption of green industry principles.
Places to buy beachwear of Bathik
In Sri Lanka along the coastal areas from Hikkaduwa, Galle, north of Negombo up to Mahawewa bathik industry is successfully prevalent. And these coastal areas are well known for their beautiful beaches, so these bathik beachwear will definitely come handy for a comfortably enjoyable tropical beach sighting.