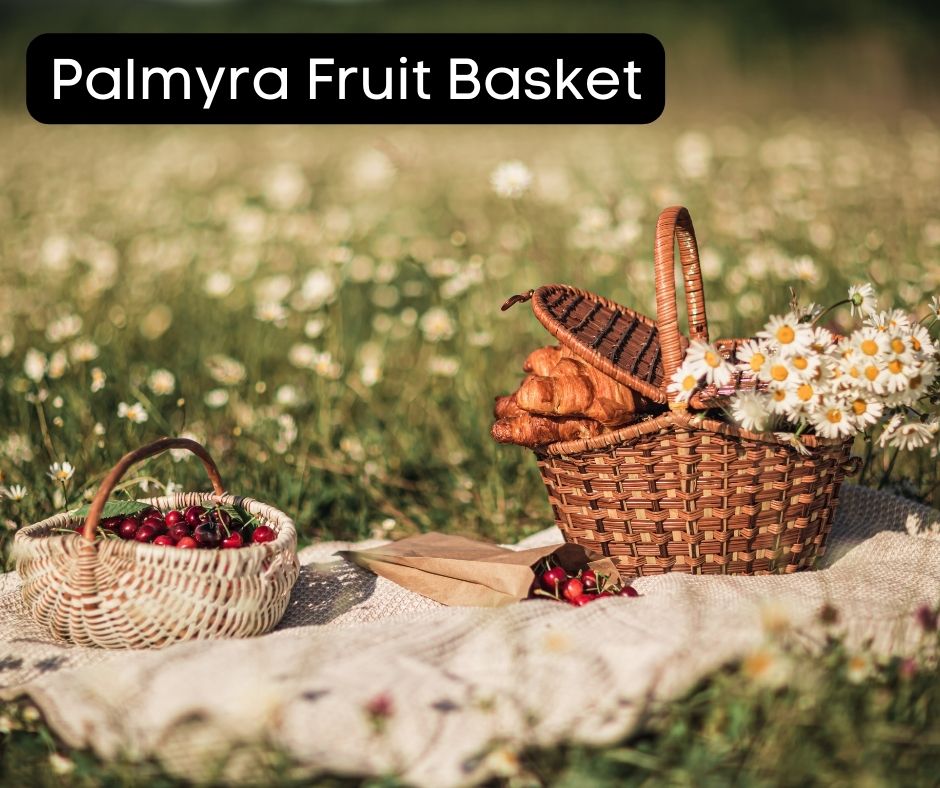 Palmyra Fruit Basket
Palmyra fruit basket; the perfect gift choice.
Native to South and Southeast Asia, Palmyra (Borassus flabellifer) is a tree that grows in hot climates. This tree is commonly known as doub palm, palmyra palm, tala or tal palm, toddy palm, etc. For a robust tree that can grow up to 30m, it is useful not only for its wood, which is commonly used in the construction of fences, but also for its leaves, which are used in thatching, and other household items. Where Palmyra fruit basket construction from the leaves of Palmyra is getting attention for its unique sophisticated look which comes with eye-catching delicious fruits on it.
Manufacturing the Palmyra Fruit Basket
In April and May, the palm leaves are plucked and allowed to dry for a day under the sun. Once a month, among the natural fronds, the new leaves emerge. It has an ivory tint and is delicate. It is harvested before it unfolds into the recognizable fan shape in order to preserve these characteristics. Each leaflet folds along a midrib known as eerke in the area, which serves as the basket's rim.
The leaf strips are dipped in boiling water for plain baskets and left to dry. For colored baskets, the leaf strips are dipped in the colored water. The main purpose of this process is to strengthen it. When woven into a basket, a few strips are multicolored by being dipped in several different colors. The strips are sprinkled with basket water before weaving to keep them damp and prevent breakages. The palm stripes are positioned vertically and horizontally, overlapping one another, depending on the needed size of the basket. To adorn the baskets, beads are glued or woven onto them.
Variations of the product
Traditional items made from Palmyra leaves, like mats, baskets, storage boxes of various sizes, strainers, winnows, and trays to dry food, are still used in most Sri Lankan households, especially those in the country's north and east. Many fishermen still use large woven baskets made of delicate leaves to transport fresh fish. Long-distance shipping of tobacco and dried fish is still done in packets made of Palmyra leaves. To popularize the creation of additional handicraft products, including hats, wallets, bottle covers, and other decorative things.
Eco-friendliness 
Made out of the Palmyra leaves, once used it can be easily discarded as the product is biodegradable. But on the contrary, imagine the harm created by Chlorinated plastic baskets, for they release harmful chemicals into the surrounding soil, which can then seep into groundwater or other surrounding water sources, and also the ecosystem. This can cause a range of potentially harmful effects on the species that drink the water. But none of such negative impacts will be caused by a Palmyra fruit basket with its Eco-friendliness. 
Benefits to people & society
In the Local context, Palmyra Development Board (PDB), has taken many actions to improve the marketability of various Palmyra products woven by the locals. Most of the weavers are women and buying these products immensely helps the livelihoods of these local women and their families. And with the products' eco-friendliness, it benefits the society in long term to have a healthier environment for future generations to come.  
Where can find these products
Locally many shops sell various types of Palmyra fruit baskets island-wide. But if you want to send one without the trouble of going shopping, there are tens and thousands of local and international online shopping sites where you can buy a beautifully crafted Palmyra fruit basket. 
A Palmyra fruit basket can always be sent as a token of friendship to a beloved family member, a close friend, or anyone else who needs a reminder that they are important to you. Fruits that are crisp and luscious and presented beautifully and elegantly will always make the recipient's home feel sunny and summery. Fruits are a great gift option because they are appealing to recipients of all ages and are bright and delicious. So why wait?