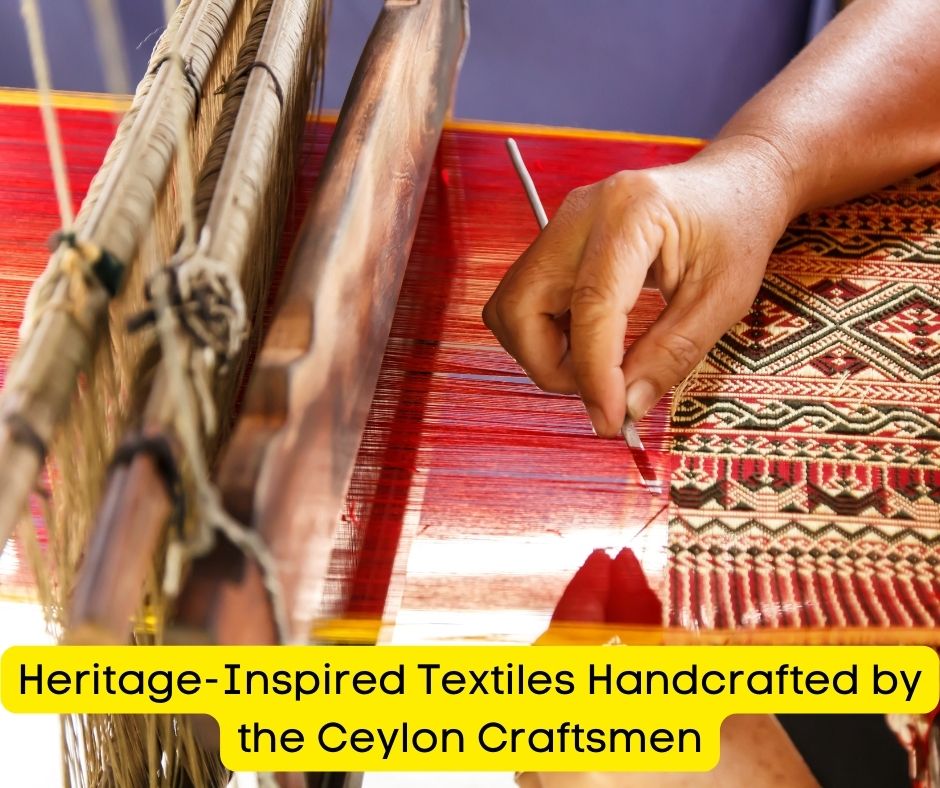 Heritage-Inspired Textiles Handcrafted by the Ceylon Craftsmen
Introduction to Handcrafted Textiles
Sri Lanka is well known as Ceylon for a long time among the international crowd for its fame for spices, textiles, gems, and tea products. Whether arriving or departing the country, every traveler that passes through the Bandaranaike International Airport is inundated with various colorful and one-of-a-kind objects of Sri Lanka's rich cultural heritage. Among these objects, the place these visitors give to textiles like batik and hand-dyed clothing, handloom clothing is very high. Whether it is through legitimate handicraft shops or mass manufacturing establishments using traditional craft patterns and designs, these handicraft products represent the "Sri Lanka or Ceylon" that is being offered. Our culture is captured in our craft, which is how we communicate it.
Origin of handcrafted textiles in Ceylon
Creating handcrafted textiles was first a practical endeavor; people manufactured the things they required, such as clothing, kitchenware, mats, and other necessities. A factory line of people took the place of the lone artisan with the onset of industrialization. The Ceylon textile industry has expanded in recent years to include the creation of art and sculpture, traditional lacquer and sesath, batik, handloom clothing, masks and puppets, miscellaneous handicrafts, lace or leather items, and more as well as a multitude of heritage-inspired textile products. Some of the textile products can tell stories of the Ceylon Heritage.
Techniques used for textiles
The term "textile" refers to a wide range of fiber-based products, such as fibers, yarns, filaments, threads, and other fabric forms. The term "textiles" formerly only referred to woven cloth. However, weaving is not the sole method of production; other interesting techniques were eventually created to produce textile structures resulting in clothing and souvenirs. For some would be knitting, crocheting, bathik styling as techniques, followed by many more.
Role of the Sri Lankan government in textiles
Such is the era in which Sri Lanka finds itself in regard to crafts. Our postcolonial setting leaves us with crafts as an essential cultural and political signifier, as well as its significance for people from industrialized nations looking for the exotic overseas and a link between product and person. Sri Lanka is in a good position right now because of the strengthening legislative protections and increased interest in heritage around the world.
Importance of heritage inspired handcrafted textiles
The growth of the sector also holds the potential to give solutions to issues of national priority, such as the out-migration of workers, livelihood support, and tourism development. However, this sector needs to be thought about holistically and in tandem with other government policies. Also, the development of the sector aids to prosper the livelihood support for existent craftspeople and cultural heritage preservation. Which play an important role in sustaining these heritage-inspired textile handcrafts.   
It is now obvious; that the Heritage-inspired hand-crafted textiles offer a wide array of authentic Sri Lankan souvenirs and novelty gift items which would be an ideal way to make one special while at the same time helps the craftsmen's livelihood prosper and preserve the ancient heritage of Sri Lanka.