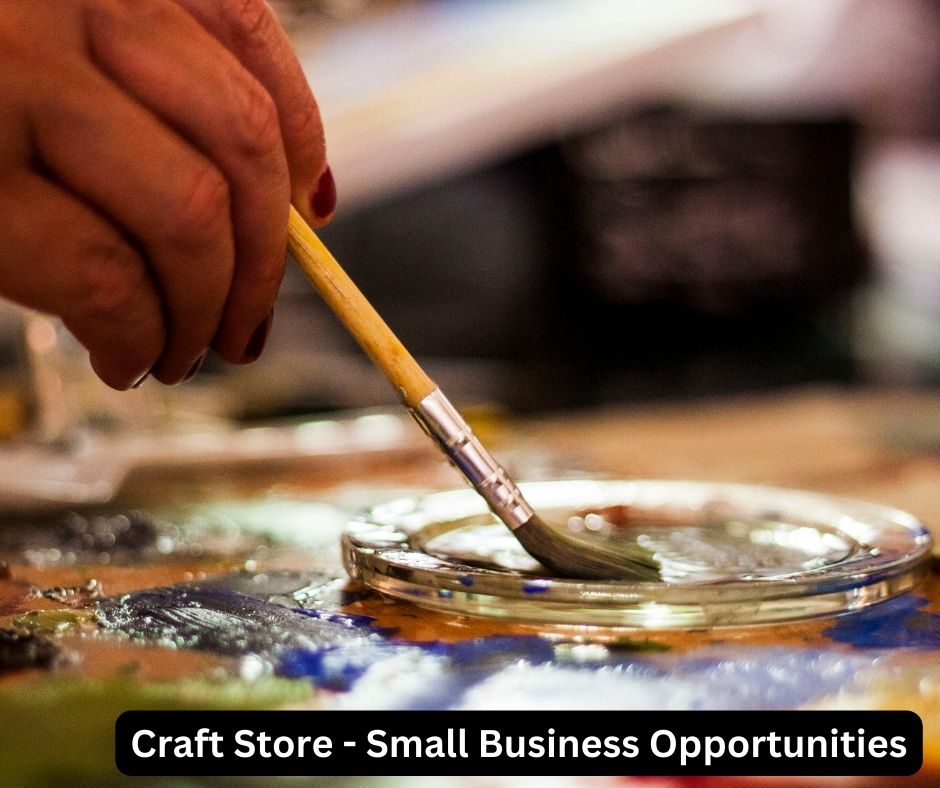 Craft Store – 4 Small Business Opportunities
Starting a craft store online or physically may be a lucrative effort for creative individuals because of the popularity of craft-focused, online markets like Etsy. Any of the following craft business ideas can be turned into a full-time job, depending on your resources, and they are all definitely doable as an entrepreneurial hobby.
Consider trying one of the following craft business ideas if you're motivated to start a brand-new, possibly lucrative pastime or if you're one of the talented few whose artistic ability crosses multiple mediums.
All of these craft store concepts require various supplies and skill sets. There is a market for all of these products, they all have relatively low startup and overhead costs, and they are all perfectly feasible home-based businesses, making them perfect if you want to dabble in the industry.
Best craft ideas to start a craft store
Selling handmade ceramics is the ideal method to combine work and pleasure if you are a creative individual who enjoys working with your hands. Being a skilled potter is only half the battle, as you also need to discover a successful marketing and sales strategy for your items, whether you choose to sell them online craft store or in a physical store.
Making pottery might have comparatively significant initial costs in comparison to other handcrafted craft companies. This will rely on a number of variables, the most important of which is whether you decide to work remotely from home or rent a dedicated workplace. 
Volunteering your time to a pottery studio in exchange for studio time is one method to save money in the workplace. You may set your own prices and earn a good life once you have the necessary tools, a stable location, and the ability to produce high-quality designs. A sizable portion of the target market is willing to pay more for artisan ceramics, and consumers are eager to do so.
Although stained glass is frequently connected to churches and other places of worship, it truly has a broad range of appeal and uses. Stained glass can give flair to practically any item or structure, from novelty eyewear to contemporary art. You need to have a thorough understanding of stained glass design and production in order to launch a stained glass craft store.
Regardless of the level of expertise needed, stained glass can be a very profitable and long-lasting business. You will need a variety of glass-cutting tools, safety equipment, and a big, flat surface to work on in your workplace, but they are not really expensive to buy and keep up.
You can charge a higher cost for your specialized skills, providing for great income potential with a steady stream of customers, whether you intend to create small stained-glass ornaments or large windows.
For fashion enthusiasts who are skilled at creating their own clothes, sewing craft store businesses are fantastic. The majority of sewing businesses focus on creating, modifying, or creating custom garments. There is never a poor time to launch your sewing business because the demand for custom apparel and clothing alterations is constantly expanding.
One of the key advantages is the low cost of operating. The majority of sewing individuals operate from home, so starting a sewing business requires relatively little money beyond the cost of a sewing machine and supplies.
 Also, you can promote yourself to shops if you specialize in creating original designs. This may pave the way for growth and considerably boost your ability to make money.
Birthdays, holidays, reunions, and many other life events are frequently celebrated with greeting cards. Greeting card companies can sell in bulk to stores or directly to customers through their websites. In either scenario, greeting card businesses are best run by business people with an aptitude for design, poetry, and marketing. The initial costs are inexpensive because the majority of these craft stores are entirely online. ceylonauthentics.com provides a range of handicrafts through their website and if you are a person looking forward to starting a handicraft business you can take a clear idea from their handicraft range.