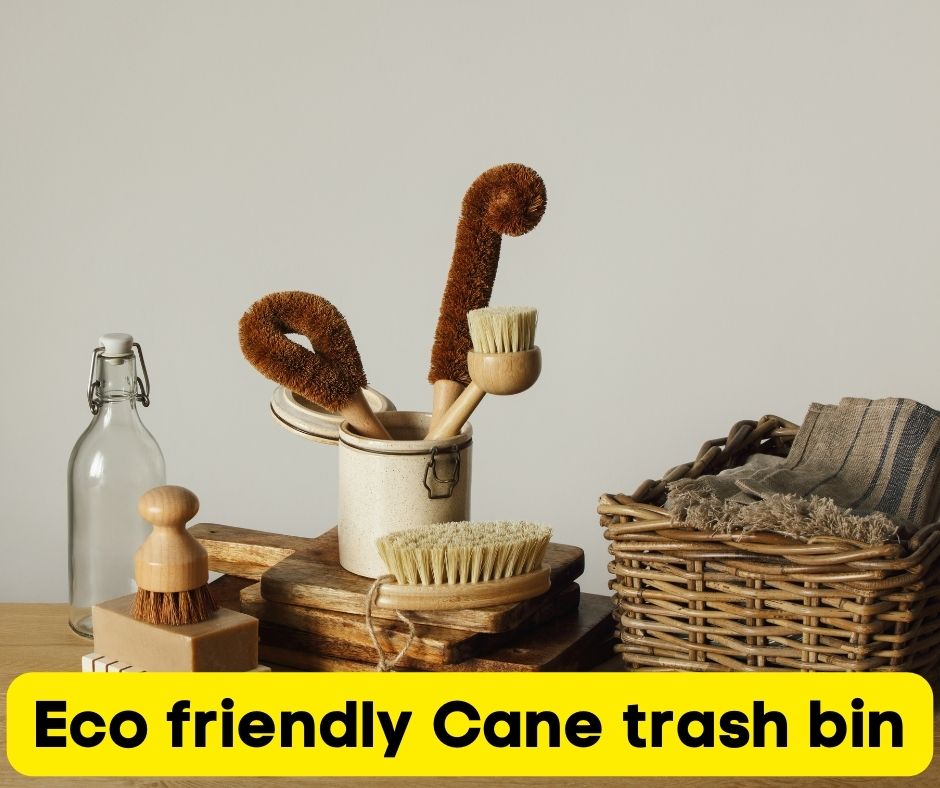 Eco friendly Cane trash bin
Cane Products: Introduction
Out of many authentic products, especially in the Asian region, cane products take a special place not only among foreigners but also the products are highly sought-after by locals too. When it comes down to cane trash bins, are made by the Cane plant. This cane plant is also known as Rattan (Calamus rotang). The plant itself has a roughened look and is thorny, yet, no matter, the finished cane trash bin's final look is so sophisticated and neat, that it would definitely brighten up your place.
Cane Products in Sri Lanka
Cane products in Sri Lanka are made by our own Sri Lankan craftsmen using the cane plant bark. The cane industry in Sri Lanka mostly focuses on cane furniture. We are one of the largest rattan cane product makers in south Asia. We could see lots of government involvement in helping small businesses to reach out to international markets. First, they find the gifted Sri Lankan cane craftsmen and buy products directly from them. Since most of the rattan cane craftsmen are not computer literate, these businesses support them by buying and helping to sell their cane products on Sri Lankan online shopping platforms.
Production of cane trash bin
This trash bin is made out of cane and added reed to emboss the look. This Bin is made by highly skilled Sri Lankan craftsmen using a variety of cutting tools. Made just for you, the environment-loving generation. We could see some SME businesses are trying to find these gifted Craftsmen and give them the true value for their effort. These small businesses are entering into a new market space that they cannot otherwise access with an old product.
Use of the cane trash bin
This bin can be used for a very long time when kept dry. This can be considered a great investment when considering the safety aspect and the eco-friendly qualities that this product brings out. A trash bin made out of natural cane can be used as a garbage bin, trash bin, or plant basket. This is an eco-friendly handicraft and can be replaced by plastic bins.
Eco-Friendliness
With access to trash cans and dumpsters around our homes, schools, workplaces, restaurants, streets, and more, they have become fixtures in our lives that we take for granted. That's why we need to be more careful about not only what's inside of the trash cans but also what we use to make those trash cans. Normal conventional trash cans are mostly made with plastic, which takes an eternity to degrade so it's just hazardous to nature.
Tree savior role of cane
Plus, this cane trash bin is not the only product made using the cane/Rattan plant. There are countless pieces of furniture made using this cane plant like cupboards, beds, tables, chairs, and many more. And come to think of that, it has a significantly positive impact on our ecosystem by replacing the wood needed to manufacture this furniture. Can you imagine the number of trees that will be saved by replacing wood-based furniture with cane-based furniture products? I believe the answer is clear to all of you dear readers. So, yes, making this cane trash bin option sounds more interesting compared to those plastic trash trash bins we are frequently using in our day-to-day lives.
Purchase of the product.
This Cane waste bin is best suited for classrooms or personal office spaces or to keep under workstations. This waste bin is made by highly skilled Sri Lankan craftsmen. If you intend to buy from Sri Lanka, there is a special town when you travel down the Colombo-Kandy Road called Weweldeniya, where for miles and miles, there are shops full of cane products including this Cane trash bin. But yes, given that you are not up to travel, you can always order online. It's that simple. Also, why not buy this amazing cane trash bin which would be a great investment when considering the safety aspects and the eco-friendly qualities that this product brings out?