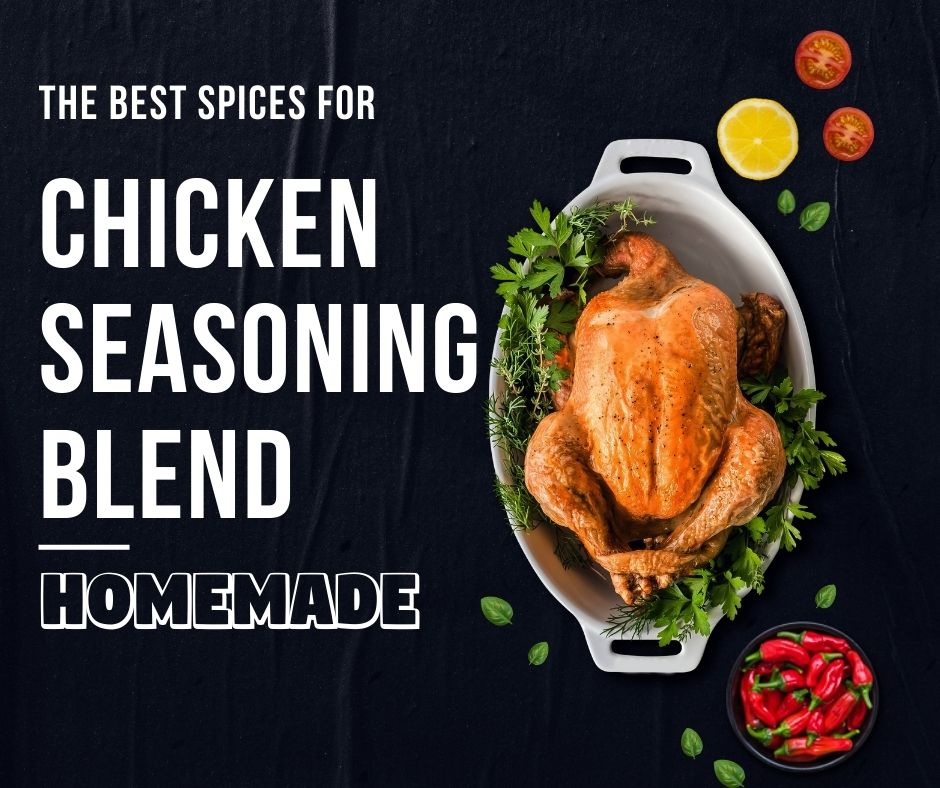 The Best spices for Chicken Seasoning Blend | Homemade
Spices for Chicken Seasoning
Spices for Chicken Seasoning blend may vary by recipies. Spices and herbs are any product of plant origin used primarily for seasoning food in general. Spices are products of tropical plants yet when it comes to herbs they come from different locations across the world. Usually, the leaves of herbs are used; whereas, spices may come from the bark, berries, flower buds, roots, or seeds. 
Role of spices and herbs in food
Although spices and herbs have been used since ancient times mainly as medicine, they are playing a new and important role in modern cuisine. They not only add unique flavors to our food but contribute to the color, variety, and numerous health benefits.  
Spices and herbs are used alone, or in blends in seasoning food. When it comes down to spices for chicken, by adding these spices and herbs, one gets exposed to a variety of flavors which may promote food enjoyment, and indeed with added flavors, the food intake increases with improved appetite.
Spices for Chicken
When it comes to the big question of what are the best spices to be used to season the chicken, one would end up with a very long list of spices. To add to that, the possible combinations of different spices to add would have no bounds. Nevertheless, when looked into some of the most commonly used spices for chicken seasoning/marinating, are, salt, fresh ground pepper, paprika (smoky or sweet), cayenne, garlic powder, onion powder, ginger, marjoram, mustard, nutmeg, savory, and tarragon. But there are more exotic tropical and Mediterranean spices that are locally used to season chicken as well. 
Herbs for Chicken  
In Mediterranean dishes, thyme is often used in chicken recipes as it has a delicate aroma that adds a layer of flavor to the dish rather than overpowering the other flavors. Thyme pairs well with basil, parsley, and rosemary-like herbs as well. Oregano, parsley, and sage are three herbs that are quick and easy to grow, produce masses of leaves from each plant, and are just as useful for livening up a chicken's diet. In some Asian chicken dishes Coriander leaves, Curry leaves and Cinnamon leaves are used.  
Flavors of spices and herbs
Each spice or herb has a distinctive flavor, but certain spices and herbs can be grouped. For example, bay leaf, cardamom, ginger, pepper, and mustard, have strong or dominant flavors. Basil, celery, cumin, garlic, oregano, thyme, and turmeric have medium flavors. Chives and parsley have delicate flavors. Cinnamon, cloves, ginger, and cardamom are known for their sweet flavor. Oregano, tarragon, and chives are famous for their savory flavor, and red pepper, mustard, black pepper, and paprika are known for their peppery flavor. Thus, the diversity of different spices and herbs is so vast yet it adds a favorable diversity of flavors to chicken seasoning.
Chicken seasoning powder
There are many commercial chicken seasoning powder brands across the globe to make the seasoning easier. One of the most famous would-be Chicken Bouillon Powder. Also, in Asian countries especially India there are mouth-watering spice mixtures such as masala, tandoori, and many more hot spice mixtures to season the chicken dishes.
Seasoned chicken preparation methods
Grilled chicken
The grilling of chicken involves exposing seasoned chicken to hot steamed air for a while using heated burning charcoal. Processing methods including hold time after marination affect the sensory qualities of marinated grilled chicken meat.
Brine is the first step to perfect poultry on the grill, as this step adds tons of flavor to the meat and helps to tenderize it. Other seasoning spices and herbs, like, paprika, pepper, garlic can be used with more or less diversity to the seasoning, depending on the consumers' preferences with a great barbecue sauce to spike the flavor of grilled chicken. 
Baked Chicken
Same as every other chicken recipe, baked chicken recipes are numerous. But a basic European oven baking of chicken may include olive oil, salt, and pepper. Chicken stock/white wine for gravy.
Pan-cooked chicken
Pan cooking/ frying is an excellent way to cook boneless and skinless chicken breasts when you are short on time. You can easily dredge them in the flour mixture added with various spices from tropics and herbs like pepper, paprika, garlic etc. 
Healthy chicken seasoning
A healthy chicken seasoning can be easily prepared at home, by adding your favorite spices and herbs. Not every chicken recipe becomes a healthy chicken recipe, but a recipe that comes with all the key nutrition like carbohydrates, proteins, and vitamins along with the chicken in the right proportions is called a healthy chicken recipe.
Health benefits of seasonings used for chicken
Spices are beneficial for health. For instance, Paprika, includes a lot of vitamin A. Spices include significant amounts of iron, minerals, magnesium, and calcium. In addition, most spices have antioxidant effects and contain phenolic components like flavonoids, which improve the body's absorption of nutrients. They are generally safe to consume on an everyday basis without causing significant adverse effects.
So, if you know the right spices which pair well with your health and taste preferences you can easily produce the Best All-Purpose Chicken Seasoning in your home. 
Chicken seasoning for weight loss
Cinnamon, Fennel, and Cardamom Black Pepper Garlic are common spices that possess fat-burning effects and thus, reduce body weight. Curcumin reduces inflammatory markers linked to obesity helping weight loss.
Chicken seasoning for bodybuilding
Usually, a large amount of protein diet is used by bodybuilders to maintain and support muscle growth. In case of getting bored with the same recipes, spicing up your chicken dish with various spices and herbs would bring new excitement to the bodybuilding workouts as well. Since chicken is protein-rich and is the cheapest product to gain muscle weight in a quick time, adding your favorite seasoning would be one way for gaining muscle faster.
Side effects of chicken seasoning 
When it comes to some seasoning powders, especially some commercial seasoning powders, there could be adulterants that could cause harm to health. But by making sure the authenticity of the product is quality, any side effects can be easily avoided.
Overconsumption of spices may cause, such as nausea, stomach discomfort, and diarrhea. Moreover, in case of contact with hot spices, it might induce dermatitis or red, itchy rashes on the skin such as cinnamon and nutmeg, which are more likely to cause it. Some spices react with certain drugs, resulting in blood thinning and hemorrhoid development as well. But all these could be avoided if the consumer knows his/ her boundaries.